Cargadora de ruedas
966
Esta unidad incluye una cuchara de uso general, paquete de mantenimiento, conectividad, supervisión remota y su propio equipo de expertos en productos de Holt of California.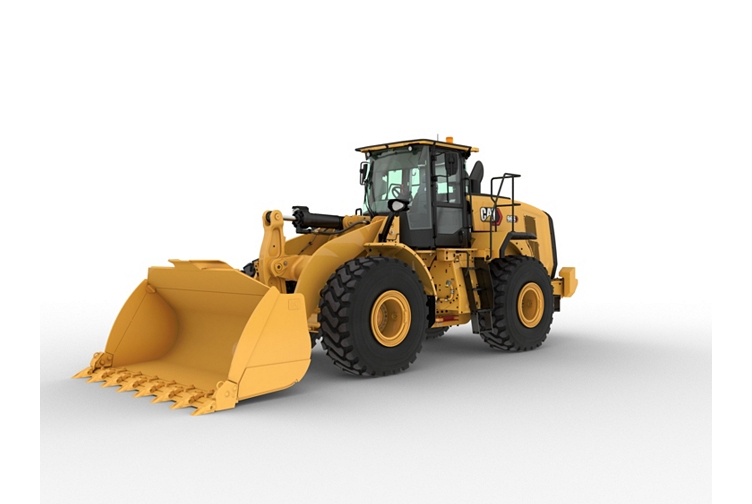 La imagen mostrada es representativa y puede no reflejar las especificaciones exactas.
Precio
Solicitar presupuesto
Comparar productos
Compartir este producto
966
Sólo puede comparar hasta 3 artículos a la vez
The Cat® 966 Wheel Loader brings premium performance with simple-to-use technologies as a standard offering, boosting operator efficiencies and delivering increased productivity. Extended service intervals lower maintenance costs. Improved performance, reliability, durability, and versatility result in a machine that is better built to meet your needs.
Motor
| | |
| --- | --- |
| Engine Power @ 1,600 rpm - ISO 14396:2002 | 321HP |
| Gross Power @ 1,600 rpm - SAE J1995:2014 | 325HP |
| Modelo de motor | Cat C9.3B |
| Net Power @ 1,600 rpm - ISO 9249:2007, SAE J1349:2011 | 303HP |
| Nota (1) | Cat engine meets U.S. EPA Tier 4 Final, EU Stage V, Korea Stage V, China Nonroad Stage IV and Japan 2014 emission standards. |
| Nota (2) | The net power advertised is the power available at the flywheel when the engine is equipped with fan, alternator, air cleaner, and aftertreatment. |
| Net Torque @ 1,200 rpm - ISO 9249:2007, SAE J1349:2011 | 1255ft-lb |
| Engine Torque @ 1,200 rpm – ISO 14396:2002 | 1313lb/ft |
| Gross Torque @ 1,200 rpm – SAE J1995:2014 | 1327lb/ft |
| Nota (3) | Cat diesel engines are required to use ULSD (ultra-low sulfur diesel fuel with 15 ppm of sulfur or less) or ULSD blended with the following lower-carbon intensity fuels up to: • 20% biodiesel FAME (fatty acid methyl ester)* • 100% renewable diesel, HVO (h |
| Desplazamiento | 9.3 L |
Pesas
| | |
| --- | --- |
| Peso operativo | 51124lb |
| Nota | Weight based on a machine configuration with Bridgestone 29.5R25 VSNT L4 radial tires, full fluids, operator, standard counterweight, ride control cold start, roading fenders, Product Link, open differential axles (front/rear), secondary steering, sound s |
Capacidades de los cubos
| | |
| --- | --- |
| Gama de cubos | 2.8-11.9 m³ 3.75-15.5 yd³ |
Transmisión
| | |
| --- | --- |
| Delantero - 1 | 4.2mile/h |
| Delantero - 2 | 8.4mile/h |
| Delantero - 3 | 15mile/h |
| Delantero - 4 | 24,5 millas/hora |
| Nota | Maximum travel speed in standard vehicle with empty bucket and standard L3 tires with 849 mm (33 in) roll radius. |
| Reverso - 1 | 4.5mile/h |
| Reverso - 2 | 9.2mile/h |
| Reverso - 3 | 16.5mile/h |
| Reverse - 4 | 24,5 millas/hora |
Sonido
| | |
| --- | --- |
| Nota (1) | ** For machines in European Union countries and in countries that adopt the EU Directives. |
| Nota (2) | ***Directiva 2000/14/CE de la Unión Europea, modificada por la Directiva 2005/88/CE. |
| With Cooling Fan Speed at 70% of Maximum Value - Exterior Sound Power Level* | 108 |
| With Cooling Fan Speed at 70% of Maximum Value - Operator Sound Pressure Level (ISO 6396:2008) | 69 dB(A) |
| With Cooling Fan Speed at Maximum Speed - Exterior Sound Power Level (ISO 6395:2008) | 109 dB(A) |
| With Cooling Fan Speed at Maximum Speed - Exterior Sound Pressure Level (SAE J88:2013) | 76 |
| With Cooling Fan Speed at Maximum Speed - Operator Sound Pressure Level (ISO 6396:2008) | 70 dB(A) |
| With Cooling Fan Speed at Maximum Value - Note | Distance of 15 m (49.2 ft), moving forward in second gear ratio. |
Sistema de aire acondicionado
| | |
| --- | --- |
| Aire acondicionado | The air conditioning system on this machine contains the fluorinated greenhouse gas refrigerant R134a (Global Warming Potential = 1430). The system contains 1.6 kg (3.5 lb) of refrigerant which has a CO2 equivalent 2.288 metric tonnes (2.522 tons). |
Especificaciones de funcionamiento
| | |
| --- | --- |
| Fuerza de arranque | 38999lb |
| Nota (1) | For a machine configuration as defined under Weight. |
| Nota (2) | Full compliance to ISO 14397-1:2007 Sections 1 thru 6, which requires 2% verification between calculations and testing. |
| Carga estática de vuelco - Giro completo de 40° - Sin desviación del neumático | 15981kg |
| Carga estática de vuelco - Giro completo de 40° - Con desviación del neumático | 32727lb |
Capacidades de recarga de servicio
| | |
| --- | --- |
| Sistema de refrigeración | 17.4gal (US) |
| Cárter | 6.1gal (US) |
| Tanque de DEF | 6.9gal (US) |
| Diferencial - Transmisión final - Delantero | 15.1gal (US) |
| Diferencial - Transmisión final - Trasero | 15.1gal (US) |
| Depósito de combustible | 80.1gal (US) |
| Depósito hidráulico | 30.1gal (US) |
| Transmisión | 15.5gal (US) |
Sistema hidráulico
| | |
| --- | --- |
| Sistema de implementos - Presión máxima de funcionamiento | 4496psi |
| Implement System - Maximum Pump Output at 2,250 rpm | 99gal/min |
| Duración del ciclo hidráulico - Total | 10.1 seconds |
Dimensiones
| | |
| --- | --- |
| Nota | All dimensions are approximate and based on machine equipped with 5.4 m3 (7.1 yd3) general purpose bucket with BOCE and Bridgestone 29.5R25 VSNT L4 radial tires. |
Dimensiones - Elevación alta
| | |
| --- | --- |
| Línea central del eje trasero al borde del contrapeso | 8,1 pies |
| Línea central del eje trasero al enganche | 5.1ft |
| Distancia al suelo | 1.4ft |
| Altura - Parte superior del tubo de escape | 11.8ft |
| Altura - Parte superior de la campana | 9.5ft |
| Altura - Parte superior de la ROPS | 11,1 pies |
| Hinge Pin Height at Carry | 2.6ft |
| Altura del pasador de la bisagra con elevación máxima | 15.9ft |
| Holgura del brazo de elevación a elevación máxima | 13.8ft |
| Longitud total - Sin cazo | 26.6ft |
| Anchura de la banda de rodadura | 7.3ft |
| Distancia entre ejes | 11.8ft |
| Respaldo - Altura de transporte | 49 grados |
| Rack Back - Elevación máxima | 71 grados |
| Width over Tires (Loaded) | 9,11 pies |
| Rack de vuelta al suelo | 37 degrees |
Dimensiones - Elevador estándar
| | |
| --- | --- |
| Línea central del eje trasero al borde del contrapeso | 7.7ft |
| Línea central del eje trasero al enganche | 5.1ft |
| Distancia al suelo | 424mm |
| Altura - Parte superior del tubo de escape | 3531mm |
| Altura - Parte superior de la campana | 2850mm |
| Altura - Parte superior de la ROPS | 3593mm |
| Hinge Pin Height at Carry | 2 pies |
| Altura del pasador de la bisagra con elevación máxima | 4245mm |
| Holgura del brazo de elevación a elevación máxima | 3687mm |
| Longitud total - Sin cazo | 7399mm |
| Anchura de la banda de rodadura | 7.3ft |
| Distancia entre ejes | 3550mm |
| Respaldo - Altura de transporte | 50 grados |
| Width over Tires (Loaded) | 9,11 pies |
| Rack Back - Elevación máxima | 62 degrees |
| Rack de vuelta al suelo | 39 degrees |
Equipamiento de serie
Entorno del operador

Cab, pressurized, sound suppression
EH implement controls, parking brake
Steering, joystick
Seat, cloth, air suspension
Touchscreen display
Visibility: mirrors, rear-vision camera
Air conditioner, heater, defroster (auto temp, fan)
Sun visor, front, retractable
Sun visor, rear, retractable
Window cleaning platform, front
Window, front, laminated
On-board Technologies

Cat Payload scale
Autodig with Auto Set Tires
Operator ID & machine security
Application Profiles
Job Aids
Controls Help and eOMM
Tren de potencia

Cat C9.3B engine
Bomba eléctrica de cebado de combustible
Fuel-water separator and secondary fuel filter
Engine, air precleaner
Axles, front differential lock
Transmission, planetary, automatic powershift
Torque converter with lock-up
Service brakes, hydraulic, fully enclosed wet disc, wear indicators
Integrated Braking System (IBS)
Park brake, caliper on front axles, spring applied-pressure released
Hidráulica

Implement system, load sensing with variable displacement piston pump
Steering system, load sensing with dedicated variable displacement piston pump
Ride control, dual accumulators
Oil sampling valves, Cat XT™ hoses
Eléctrico

Sistema de arranque y carga, 24 V
Motor de arranque, eléctrico, servicio pesado
Lights: halogen, 4 work lights, 2 front roading lights with turn signals, 2 rearvision lights
Monitoring System

Front dash with analog gauges, LCD display, and warning lights
Primary touchscreen monitor (Cat Payload, quad screens, machine settings & messages)
Enlace

Standard lift, Z-bar
Kickouts: lift and tilt
Equipamiento opcional
Entorno del operador

Puerta, sistema de apertura a distancia
HMU steering wheel
Entertainment radio (FM, AM, USB, BT)
Entertainment radio (DAB+)
Preparado para radio CB
Seat, suede/cloth, air suspension, heated
Seat, leather/cloth, air suspension, heated/ cooled
Multiview (360�) vision system
Cat Detect rear radar system
Dedicated rearview screen
Mirrors, heated
Full cab window guard
On-board Technologies

Cat Advanced Payload
Cat Payload Printer
Tren de potencia

Turbine, air precleaner
Radiator, high debris
Cooling fan, reversible
Axles, auto differential locks front and rear
Axles, ecology drains, AOC ready, extreme temperature seals
Axles, oil cooler
Hidráulica

3rd and 4th auxiliary functions with ride control
Quick coupler control
Eléctrico

Cold start, 120V or 240V
Lights: LED
Warning beacon
| | |
| --- | --- |
| Monitoring System | |
Additional Equipment

Cat Autolube system
Fenders, extensions or roading
Guards: power train, crankcase, cab, cylinders, rear
Biodegradable hydraulic oil
High-speed oil change system
Rear cab access
Caja de herramientas
Calzos para ruedas
Secondary steering system, electrical
Special Configurations

Aggregate handler
Waste and industrial
Silvicultura
Tunnelling
Corrosion resistant
Accesorios compatibles
Motor
| | |
| --- | --- |
| Engine Power @ 1,600 rpm - ISO 14396:2002 | 321HP |
| Gross Power @ 1,600 rpm - SAE J1995:2014 | 325HP |
| Modelo de motor | Cat C9.3B |
| Net Power @ 1,600 rpm - ISO 9249:2007, SAE J1349:2011 | 303HP |
| Nota (1) | Cat engine meets U.S. EPA Tier 4 Final, EU Stage V, Korea Stage V, China Nonroad Stage IV and Japan 2014 emission standards. |
| Nota (2) | The net power advertised is the power available at the flywheel when the engine is equipped with fan, alternator, air cleaner, and aftertreatment. |
| Net Torque @ 1,200 rpm - ISO 9249:2007, SAE J1349:2011 | 1255ft-lb |
| Engine Torque @ 1,200 rpm – ISO 14396:2002 | 1313lb/ft |
| Gross Torque @ 1,200 rpm – SAE J1995:2014 | 1327lb/ft |
| Nota (3) | Cat diesel engines are required to use ULSD (ultra-low sulfur diesel fuel with 15 ppm of sulfur or less) or ULSD blended with the following lower-carbon intensity fuels up to: • 20% biodiesel FAME (fatty acid methyl ester)* • 100% renewable diesel, HVO (h |
| Desplazamiento | 9.3 L |
Pesas
| | |
| --- | --- |
| Peso operativo | 51124lb |
| Nota | Weight based on a machine configuration with Bridgestone 29.5R25 VSNT L4 radial tires, full fluids, operator, standard counterweight, ride control cold start, roading fenders, Product Link, open differential axles (front/rear), secondary steering, sound s |
Capacidades de los cubos
| | |
| --- | --- |
| Gama de cubos | 2.8-11.9 m³ 3.75-15.5 yd³ |
Transmisión
| | |
| --- | --- |
| Delantero - 1 | 4.2mile/h |
| Delantero - 2 | 8.4mile/h |
| Delantero - 3 | 15mile/h |
| Delantero - 4 | 24,5 millas/hora |
| Nota | Maximum travel speed in standard vehicle with empty bucket and standard L3 tires with 849 mm (33 in) roll radius. |
| Reverso - 1 | 4.5mile/h |
| Reverso - 2 | 9.2mile/h |
| Reverso - 3 | 16.5mile/h |
| Reverse - 4 | 24,5 millas/hora |
Sonido
| | |
| --- | --- |
| Nota (1) | ** For machines in European Union countries and in countries that adopt the EU Directives. |
| Nota (2) | ***Directiva 2000/14/CE de la Unión Europea, modificada por la Directiva 2005/88/CE. |
| With Cooling Fan Speed at 70% of Maximum Value - Exterior Sound Power Level* | 108 |
| With Cooling Fan Speed at 70% of Maximum Value - Operator Sound Pressure Level (ISO 6396:2008) | 69 dB(A) |
| With Cooling Fan Speed at Maximum Speed - Exterior Sound Power Level (ISO 6395:2008) | 109 dB(A) |
| With Cooling Fan Speed at Maximum Speed - Exterior Sound Pressure Level (SAE J88:2013) | 76 |
| With Cooling Fan Speed at Maximum Speed - Operator Sound Pressure Level (ISO 6396:2008) | 70 dB(A) |
| With Cooling Fan Speed at Maximum Value - Note | Distance of 15 m (49.2 ft), moving forward in second gear ratio. |
Sistema de aire acondicionado
| | |
| --- | --- |
| Aire acondicionado | The air conditioning system on this machine contains the fluorinated greenhouse gas refrigerant R134a (Global Warming Potential = 1430). The system contains 1.6 kg (3.5 lb) of refrigerant which has a CO2 equivalent 2.288 metric tonnes (2.522 tons). |
Especificaciones de funcionamiento
| | |
| --- | --- |
| Fuerza de arranque | 38999lb |
| Nota (1) | For a machine configuration as defined under Weight. |
| Nota (2) | Full compliance to ISO 14397-1:2007 Sections 1 thru 6, which requires 2% verification between calculations and testing. |
| Carga estática de vuelco - Giro completo de 40° - Sin desviación del neumático | 15981kg |
| Carga estática de vuelco - Giro completo de 40° - Con desviación del neumático | 32727lb |
Capacidades de recarga de servicio
| | |
| --- | --- |
| Sistema de refrigeración | 17.4gal (US) |
| Cárter | 6.1gal (US) |
| Tanque de DEF | 6.9gal (US) |
| Diferencial - Transmisión final - Delantero | 15.1gal (US) |
| Diferencial - Transmisión final - Trasero | 15.1gal (US) |
| Depósito de combustible | 80.1gal (US) |
| Depósito hidráulico | 30.1gal (US) |
| Transmisión | 15.5gal (US) |
Sistema hidráulico
| | |
| --- | --- |
| Sistema de implementos - Presión máxima de funcionamiento | 4496psi |
| Implement System - Maximum Pump Output at 2,250 rpm | 99gal/min |
| Duración del ciclo hidráulico - Total | 10.1 seconds |
Dimensiones
| | |
| --- | --- |
| Nota | All dimensions are approximate and based on machine equipped with 5.4 m3 (7.1 yd3) general purpose bucket with BOCE and Bridgestone 29.5R25 VSNT L4 radial tires. |
Dimensiones - Elevación alta
| | |
| --- | --- |
| Línea central del eje trasero al borde del contrapeso | 8,1 pies |
| Línea central del eje trasero al enganche | 5.1ft |
| Distancia al suelo | 1.4ft |
| Altura - Parte superior del tubo de escape | 11.8ft |
| Altura - Parte superior de la campana | 9.5ft |
| Altura - Parte superior de la ROPS | 11,1 pies |
| Hinge Pin Height at Carry | 2.6ft |
| Altura del pasador de la bisagra con elevación máxima | 15.9ft |
| Holgura del brazo de elevación a elevación máxima | 13.8ft |
| Longitud total - Sin cazo | 26.6ft |
| Anchura de la banda de rodadura | 7.3ft |
| Distancia entre ejes | 11.8ft |
| Respaldo - Altura de transporte | 49 grados |
| Rack Back - Elevación máxima | 71 grados |
| Width over Tires (Loaded) | 9,11 pies |
| Rack de vuelta al suelo | 37 degrees |
Dimensiones - Elevador estándar
| | |
| --- | --- |
| Línea central del eje trasero al borde del contrapeso | 7.7ft |
| Línea central del eje trasero al enganche | 5.1ft |
| Distancia al suelo | 424mm |
| Altura - Parte superior del tubo de escape | 3531mm |
| Altura - Parte superior de la campana | 2850mm |
| Altura - Parte superior de la ROPS | 3593mm |
| Hinge Pin Height at Carry | 2 pies |
| Altura del pasador de la bisagra con elevación máxima | 4245mm |
| Holgura del brazo de elevación a elevación máxima | 3687mm |
| Longitud total - Sin cazo | 7399mm |
| Anchura de la banda de rodadura | 7.3ft |
| Distancia entre ejes | 3550mm |
| Respaldo - Altura de transporte | 50 grados |
| Width over Tires (Loaded) | 9,11 pies |
| Rack Back - Elevación máxima | 62 degrees |
| Rack de vuelta al suelo | 39 degrees |
Equipamiento de serie
Entorno del operador

Cab, pressurized, sound suppression
EH implement controls, parking brake
Steering, joystick
Seat, cloth, air suspension
Touchscreen display
Visibility: mirrors, rear-vision camera
Air conditioner, heater, defroster (auto temp, fan)
Sun visor, front, retractable
Sun visor, rear, retractable
Window cleaning platform, front
Window, front, laminated
On-board Technologies

Cat Payload scale
Autodig with Auto Set Tires
Operator ID & machine security
Application Profiles
Job Aids
Controls Help and eOMM
Tren de potencia

Cat C9.3B engine
Bomba eléctrica de cebado de combustible
Fuel-water separator and secondary fuel filter
Engine, air precleaner
Axles, front differential lock
Transmission, planetary, automatic powershift
Torque converter with lock-up
Service brakes, hydraulic, fully enclosed wet disc, wear indicators
Integrated Braking System (IBS)
Park brake, caliper on front axles, spring applied-pressure released
Hidráulica

Implement system, load sensing with variable displacement piston pump
Steering system, load sensing with dedicated variable displacement piston pump
Ride control, dual accumulators
Oil sampling valves, Cat XT™ hoses
Eléctrico

Sistema de arranque y carga, 24 V
Motor de arranque, eléctrico, servicio pesado
Lights: halogen, 4 work lights, 2 front roading lights with turn signals, 2 rearvision lights
Monitoring System

Front dash with analog gauges, LCD display, and warning lights
Primary touchscreen monitor (Cat Payload, quad screens, machine settings & messages)
Enlace

Standard lift, Z-bar
Kickouts: lift and tilt
Equipamiento opcional
Entorno del operador

Puerta, sistema de apertura a distancia
HMU steering wheel
Entertainment radio (FM, AM, USB, BT)
Entertainment radio (DAB+)
Preparado para radio CB
Seat, suede/cloth, air suspension, heated
Seat, leather/cloth, air suspension, heated/ cooled
Multiview (360�) vision system
Cat Detect rear radar system
Dedicated rearview screen
Mirrors, heated
Full cab window guard
On-board Technologies

Cat Advanced Payload
Cat Payload Printer
Tren de potencia

Turbine, air precleaner
Radiator, high debris
Cooling fan, reversible
Axles, auto differential locks front and rear
Axles, ecology drains, AOC ready, extreme temperature seals
Axles, oil cooler
Hidráulica

3rd and 4th auxiliary functions with ride control
Quick coupler control
Eléctrico

Cold start, 120V or 240V
Lights: LED
Warning beacon
| | |
| --- | --- |
| Monitoring System | |
Additional Equipment

Cat Autolube system
Fenders, extensions or roading
Guards: power train, crankcase, cab, cylinders, rear
Biodegradable hydraulic oil
High-speed oil change system
Rear cab access
Caja de herramientas
Calzos para ruedas
Secondary steering system, electrical
Special Configurations

Aggregate handler
Waste and industrial
Silvicultura
Tunnelling
Corrosion resistant
COMPARA ⇄